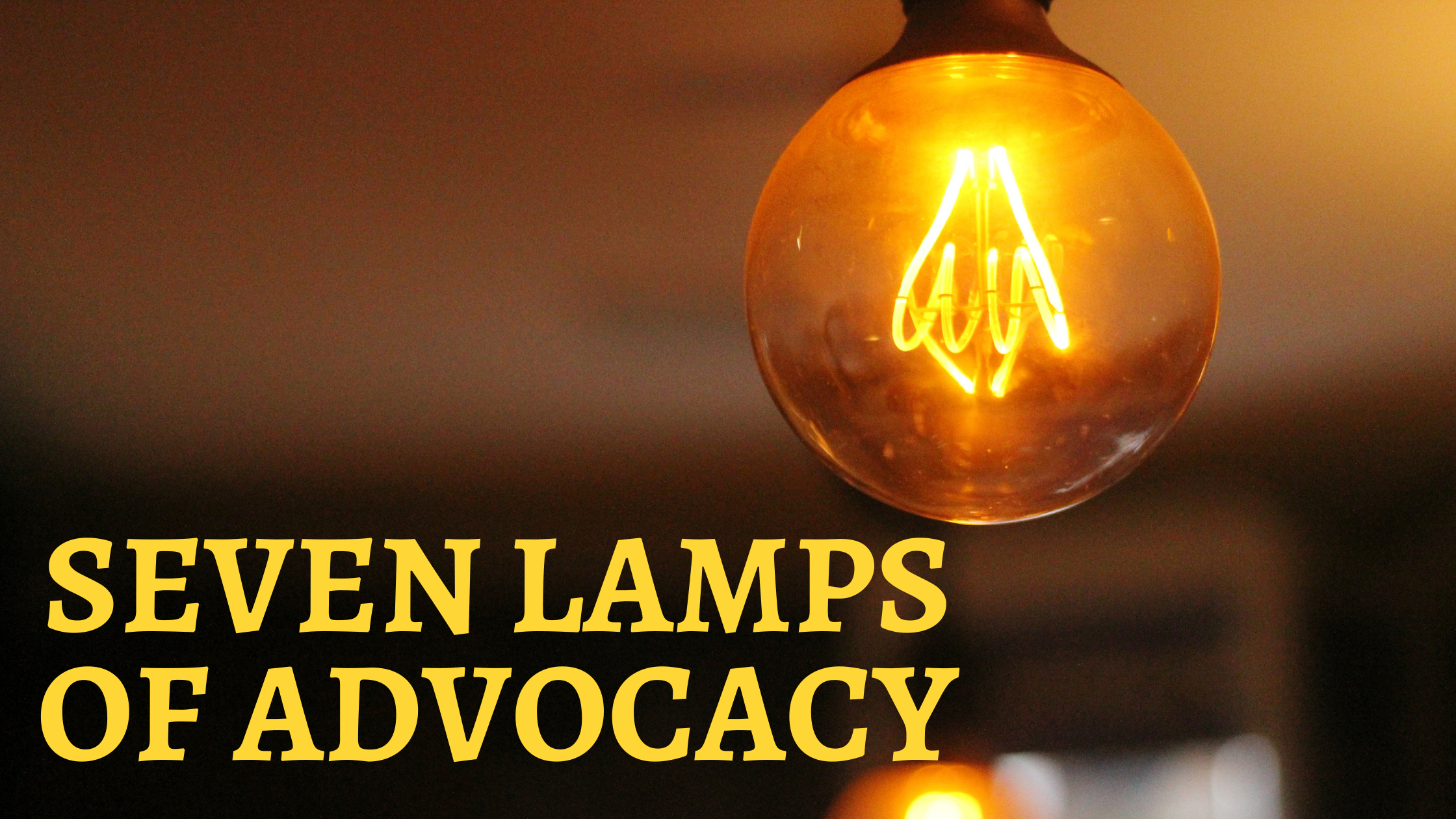 Introduction:
Advocacy is the best and respected profession that is directly connected to the legal and judiciary system as a pillar part. Being for an advocate, they must have some good qualities and skills that enable him to provide better benefits to clients, society, and people who seek justice.
Here, we can not see the legal profession in a narrow sense that it exists in large and various forms. The legal profession keeps good relationships and balances between bar and bench, which is the base of justice.
In this article, we discuss some essential qualities and skills. Seven lamps of advocacy which is must require for advocates before choosing the legal profession.
Seven Lamps of Advocacy:
(1) Honesty:
As a human being honesty is good quality, it builds strong moral self-confidence to improve good quality work with good ethics. Every advocate works hard and passionate about his profession. These qualities enable him to gain the trust of the client, genuineness.
Advocate work with different people and different subjects, that way it necessary for him to go straight forward, provide true and honest guidance to his client. At that time honesty play an important role to increase his practice areas.
An advocate should know themself that illegal practice is one kind of professional misconduct, that way they avoid doing an illegal practice which is maybe causation the result of professional misconduct in later stages.
(2) Courage:
Courage is the second most important quality, which enables an advocate to covered up any type of critical situation and control fear in danger. Because of this ability, an advocate can stay away from all of the fear like danger, pain, loss, etc.
People and society give special attention to an advocate due to this ability of courage. Of course, to build that ability, he must be become fearless, who never sits on the last bench, but always sit on the first bench.
Due to that ability of courage and knowledge with self-confidence. he can protect his client, and he can able handle all kinds of critical situations on behalf of his client.
(3) Industry:
The life of an advocate is an industry. According to that, we can say that only a well-trained advocate becomes successful in his profession. He must be deeply studied in brief like an actor who studies for the best performing of his part and dedicates his best qualities with passion and hard work.
The advocate must know that there is no shortcut key in the way of success. He must do hard work to get that achievement. He should always aware of the legal subjects and the latest update, for that he needs to deep research the laws according to his practice areas.
Remember, that lack of knowledge of the laws can destroy his future as an advocate. He must be updated with the current amendment or enforcement of laws any come in the country or state.
He must beset his life with that quote: " the lawyers are always learner during in his life."
(4) Wit:
Wit means to represent ideas with full confidence and cleverness with moral spirit. It comes to an advocate through a better understanding of truth, and it helps him to quickly analysis all critical situations.
It helps an advocate to manage lessens workload in his busy and struck routine life. This skill enables him to represent effective arguments on behalf of his client. He can make good conversations with the judge convince with the significant facts of the case. An advocate can easily reduce his tress at the result he can always confident about the verdict in favor of his client.
(5) Eloquence:
Eloquence is a Great ability that must-have in every advocate. Here is the basic meaning of eloquence we can say that talent of fluent speaking with attractive skillful language. That skill enables him to impress everyone and the judge too. It will attract the listener.
Eloquence is an art of speech that skill can develop in advocate by doing practices with topical subjects. One thing is to note that there is some difference between speaking and the art of speaking.
This skill makes his words more powerful, which helps him to build self-confidence. As a result of it, he can Easily get a verdict in his favor.
In the field of advocacy, eloquence cover two sides that cover physical as well as psychological too. The skill of eloquence adds more value to his arguments. That's the way he can easily impress the court.
(6) Judgment:
Here the judgment means taking the right decision at the right time. Through this lamp, advocates can instantly take a right and proper decision in any situation.
The ability skill of making judgment is base on facts and legal technicalities of every case. This quality helps to take proper and necessary action during the case or trial, which also assists them to save time while preparing a brief of the case.
Judgment is the most important lamp among the seven lamps of advocacy. It develops his mind at an advanced level of decision-makers from all sides of the case.
The advocate will advance think all possibilities of the whole side of the case. Through this skill, he can develop his mind on how to present the case, and he can conclude that what kind of result he can get in his favor.
(7) Fellowship :
In a simple term, we can say that fellowship means to join a membership of any association or organization. The lawyer must have a member of different associations kile local bar association, state bar, the bar council of India, as well as organizations or company which connected to the society and nation.
While there are discussions regarding the fellowship, it is the most effective and Powerful among the seven lamps. Through that fellowship, the advocate can connect with a large community of his profession. Being a fellowship, he might be able to develop a good and healthy relationship with other advocates.
As we know, during the trial, the advocate always opposes the opposite advocate by finding a controversy and contradiction. However, as a community member, it does not affect the fellowship.
Regarding the fellowship, the state bar council and the bar council of India have preferred some rules and specify the duty of advocate with colleagues. This fellowship enables an advocate to help each other by sharing knowledge, encourage each other, which builds a strong relationship between them.
(8) Tact:
When we talk about seven lamps of advocacy, another lamp that we should never ignore the tact, which is added by Mr. K.V. Krishnaswamy Aiyer in his book " Professional Conduct and Advocacy."
In the other words, we can say that tact an ability to deals with the people and situation in a skillful and smooth way without creating an offensive manner.
An advocate is always in advance to get the result in favor of his client. He should behave in a politely opposite party and his advocate with control his mind. Do not become be angry with them, not even the court or outside the court.
He must maintain his Good identity in the court and the opposite party. If he behaves with offending with them by losing his mental temper, it should reflect a Poor impact on his case, as well as his character. That's why the lamp of tact enables him to handle his work with dignity and smooth nature.